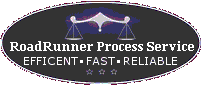 RoadRunner Process Service

RoadRunner Process Service is a full service process serve company.
We handle all serves from court ordered Subpoenas to ordinary Summons and Orders of Protection.
Serving the entire state of Arizona.
We guarantee PROMPT, EFFICIENT, and RELIABLE Process Serve. Call us 480 626 8718 today! email us ...

What's new ?

[October 2010]
We now offer our service in the town of Scottsdale. Call or email us for more information.

[November 2010]
Coming soon ! A "Frequently Ask Question" section will be added to our web site. It will help you to get answers to many of your basic questions about legal process serve.

Regular Service - Service attempt made within 72 hours of receipt, or request of client. Click here for fee schedule

Rush Service - Attempt made within 24 hours of receipt. Click here for fee schedule

Out-of-State Service - We handle out-of-state legal serves. Call or email for additional information Click here !

Road Runner Process Service #410
2040 S. Alma School Road, Ste#1
Chandler, AZ 85286

Tel. 480 626 8718

Fax. 480 452 1774
Documents maybe faxed, we will pick up documents from you locally, or you deliver them to us. We will contact you after each document has been served and we will send you a copy of the proof of service. Our experience and quality process service equals exceptional reliability for our clients. Once again we serve papers to any location in the state of Arizona., except Native American Reservations. We do NOT serve CRIMINAL WARRANTS. This is handled exclusively by Law Enforcement.